Since 2013, Amer NSM INDIA Private Limited is the distribution center of Amer Group in India and it represents our commitment to offer our Indian partners a dedicated and efficient service.
Amer NSM India works in synergy with a team of 8 companies and one brand, working with an integrated approach.
In this way, we are able to provide a high level specialization in the production of complete and optimized solutions for the motorization and electric handling: AC and DC motors, gearmotors, traction systems, electronic control systems, linear motion systems, alternators, PMG , Tractor PTO Alternators and welders.
Knowledge and proximity to the reference market, customization, quality and quick and flexible support: these are the strategic choices of Amer Group.
Innovative, integrated, optimized solutions
Our integrated solutions are the result of a perfect fusion of mechanics, electronics and information technology.
Thanks to our approach, we are able to adapt every detail to the needs of our partners, maximising the performance of their products.
Synergy and integration are the result of our specialist know-how, which we continue to develop - thanks to the competence and the innovative attitude of our R&D team.
Every customer has the opportunity to interact with a unique interlocutor and receiving solutions with high level of integration, thus shortening the lead-time and eliminating any problems of synergy between the various technical components.
Together, we move it!
We develop every project with you, sharing challenges and successes and transferring the highest possible value.
Each project is a blank page for us to co-design: working at your side we can put your needs at the center, identifying together solutions totally tailored.
The result is perfectly optimized and customized solutions for your needs, from power to consumption, from application needs to durability, from packaging to logistics, up to final application tests, even on the already integrated product.
Continuous innovation, maximum available technology, investments in human capital and lean organization: these are the values of Amer Group, which make us an extremely dynamic reality and able to drive market dynamics.
Our team
We are proud of our team: a group of 8 highly integrated companies and a brand that operate as a single player in the market, providing complementary solutions to each other. Our 5 R&D departments work side by side, sharing experiences and expertise to provide rapid responses in evolving markets.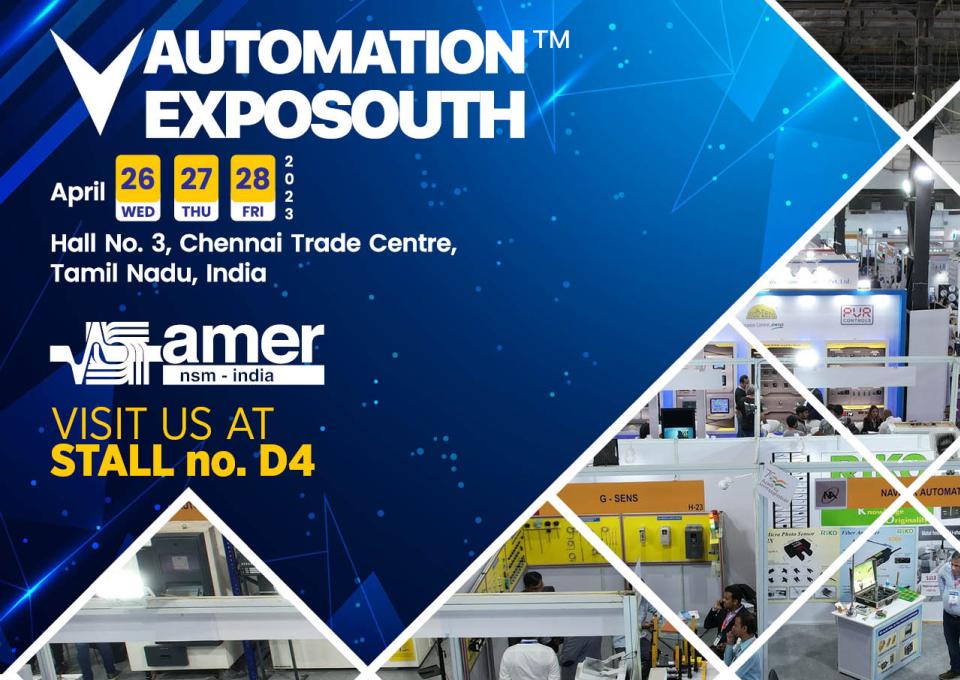 AUTOMATION EXPO SOUTH
We will present at Automation Expo South to show you our latest solutions for Automation & Instrumentation.
Our colleagues will be pleased to assist you with any inquiries you may have and they will show you our new solutions!
Visit us at Stall no. D4
AMER-NSM INDIA ANNUAL REPORT